Millets – For a Healthy Diet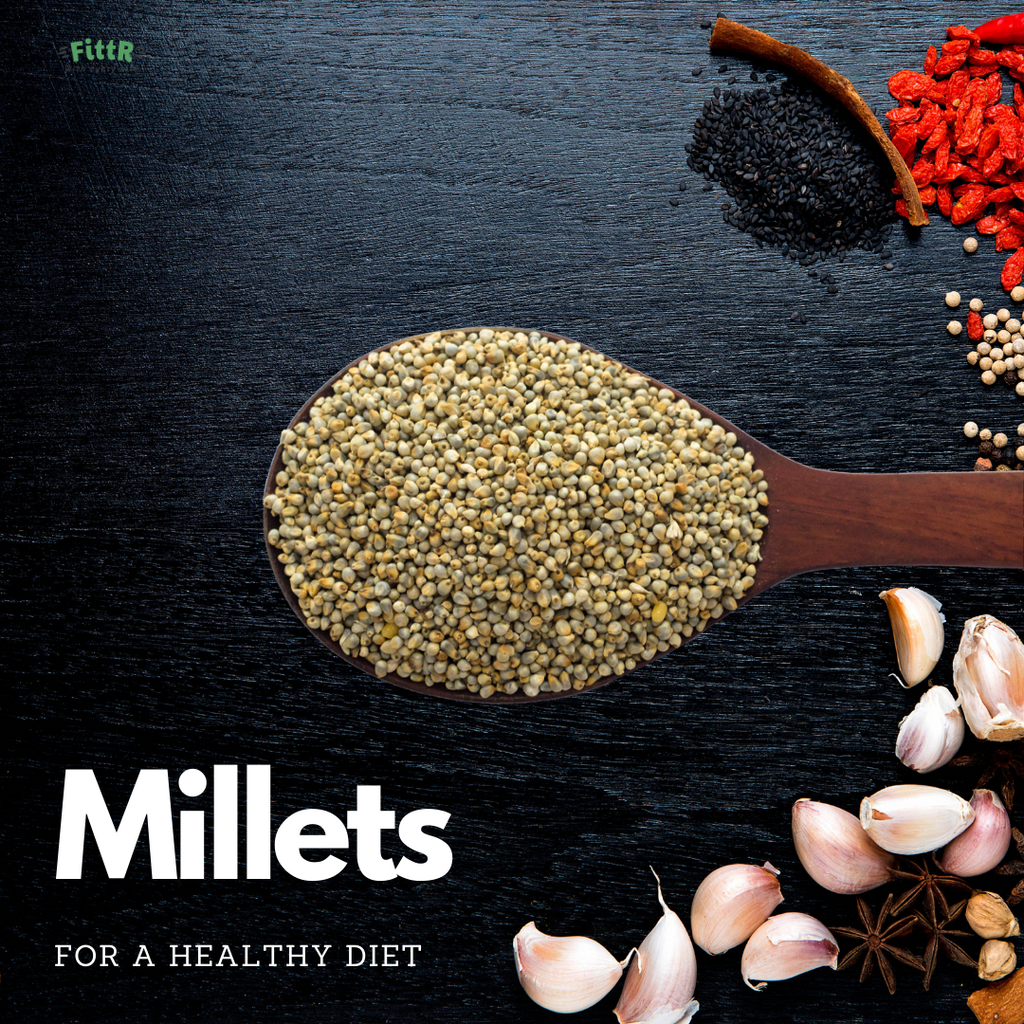 You must have heard your dadi and nani talking about bajre di roti! If you are a health-conscious person and haven't tried added millets to your diet yet then, you are certainly missing out on a healthy and tasty food alternative.
Dr. A. Sharada Devi, Dean of Home Science College, ANGRAU says that due to the growing sedentary lifestyle we should incorporate dietary modifications and for a balanced diet millets are considered the best bet. But due to low awareness, many people still miss out on their benefits.
What are millets?
Millets are traditional coarse grains that include a wide range of small-seeded grasses. Scientifically they are known as the Panicum milieu. Millets contribute a huge part to the diet in Asian and African countries. With all due credit to the Green Revolution, the millets were long known as the 'food of poor man'. But the scenario is changing with the growing awareness towards health and fitness.
There are various varieties of millets available in the ecosystem. Some commonly used variety are-
Pearl millet [ bajra]
Finger millet [ragi]
Foxtail millet
Buckwheat
Little millet
Nutritional composition of millets
Till now you know that millets are a healthy food alternative that you can confer in your diet. But let's dig deeper and listen to what scientists say. Millets are full of nutrition and minerals that offer a large amount of daily nutritional intake. They are rich in antioxidants and fiber. One quarter-bowl of dry millets contains 189 calories. Let's discuss various nutritional compositions of all main varieties of millets.
| | | | | | |
| --- | --- | --- | --- | --- | --- |
|   | Pearl millet | Finger millet | Foxtail millet | Buckwheat | Little millet |
| Fat [g] | 5.3 | 1.3 | 4 | 1 | 3.8 |
| Fiber [g] | 1.6 | 2.5 | 6.7 | 5 | 7.7 |
| Carbohydrate [g] | 67.2 | 18 | 63.2 | 33 | 65.5 |
| Protein [g] | 12.8 | 1.5 | 11.2 | 6 | 10.1 |
| Calories | 361 kcal | 328 kcal | 351 kcal | 155 kcal | 341 kcal |
*nutritional value per 100grams
Pearl millets contain a huge amount of niacin compound. It also has a rich amount of vitamin E and B-complex along with iron, magnesium, zinc, copper, unsaturated fats, and calcium. Finger millets contain the highest amount of calcium compared to other varieties of millets which is around 350mg/100g. They also contain high proportions of amino acids and sulfur along with a rich amount of antioxidants.
Why include millets in your diet?
Of course, because they are healthy! But this is a very general statement to say. Let's be more specific regarding the health benefits provided by millets.
Balance blood sugar levels
As we have already mentioned that millets are a rich source of fiber and starch-less polysaccharides, and these both help in regulating blood sugar levels. They have a low glycemic index which indicates that they don't induce high blood sugar levels. According to a study conducted on 105 people [ all suffering from type 2 diabetes], opting for millet-based breakfast instead of rice-based breakfast helps in lowering the blood sugar levels after eating.
Millets have a high amount of soluble fiber which stimulates the production of viscous material in the gut. This helps in trapping the fats ultimately resulting in lowering the blood cholesterol levels.
According to a study conducted in mice with type 2 diabetes, eating a rich fat diet along with rich millet protein induces the lowering of triglycerides levels [ bad cholesterol] and increases HDL and Adiponectin levels [good cholesterol].
Covid-19 has taught us the importance of strong immunity. The millets contain a huge amount of protein which helps in boosting the immunity power. Protein also helps in repairing the mechanism of the tissues.
Do you know every 3rd person in the world is suffering from overweight BMI? Incorporating millets in our diets helps in boosting our metabolism. Also, their low-calorie content makes them an ideal food alternative for people who are trying to lose weight.
One millet plant requires 2.5 times less water than a rice plant. They can be easily grown in dry regions with less fertile soil which makes them an ecologically sustainable crop to grow. Eating millets isn't just good for your health but it also good for the environment's health.
Yummy Millet Recipes
Millets flake Upma recipe
Ingredients:  
one-cup little millet flakes,
sugar half tsp,
oil 3 tsp,
chopped onion – 2
chopped carrot- ½
mustard seeds- ½ tsp
red chili and salt as needed
turmeric- ½ tsp
lemon juice- 1 tsp
Process :
Wash the millet flakes.
Add turmeric, salt, and sugar to these washed flakes.
Add oil to a pan and keep it on the flame.
Add onion and sauté them.
Then, add red chili and carrot, mix it well for 5 minutes.
Now put the millet flakes and cook it for 3 to 4 minutes on low flame, and your tasty little millet upma is ready to serve.
Eggless Pearl Millet Almond Cookies
Ingredients:
Pearl millet flour- 1 cup
Unsalted butter- ½ cup
Powdered Sugar – ½ cup
Chopped almonds- ¼ cup
Grinded Green cardamom pods- 8
              Process:
Preheat the oven to 180C
Mix flour, powdered sugar, almonds, and salt.
Add butter and knead soft dough.
Divide the dough into small balls and press them into cookie shapes.
Now bake them for 15 minutes at 180C and your tasty millet almond cookies are ready.
Millets are healthy and nutritious, even doctors advise adding millets to your diet. If you want to buy tasty millet products then, FittR with every Bite is the perfect place. FittR with every bite has a range of millet-based products from ready-to-cook breakfast to savory snacks. Now prepare an easy, healthy, and palatable breakfast by using our millets dosa mix. Want to munch on something healthy? Then, try our tasty and fibrous multi millet cookies. Craving for a sweet tooth? Then, how about tasty and healthy season jaggery millets chikki.  FittR with every Bite have everything for your every craving!