Bored of Oats Porridge-  Try Oats in our Indian style!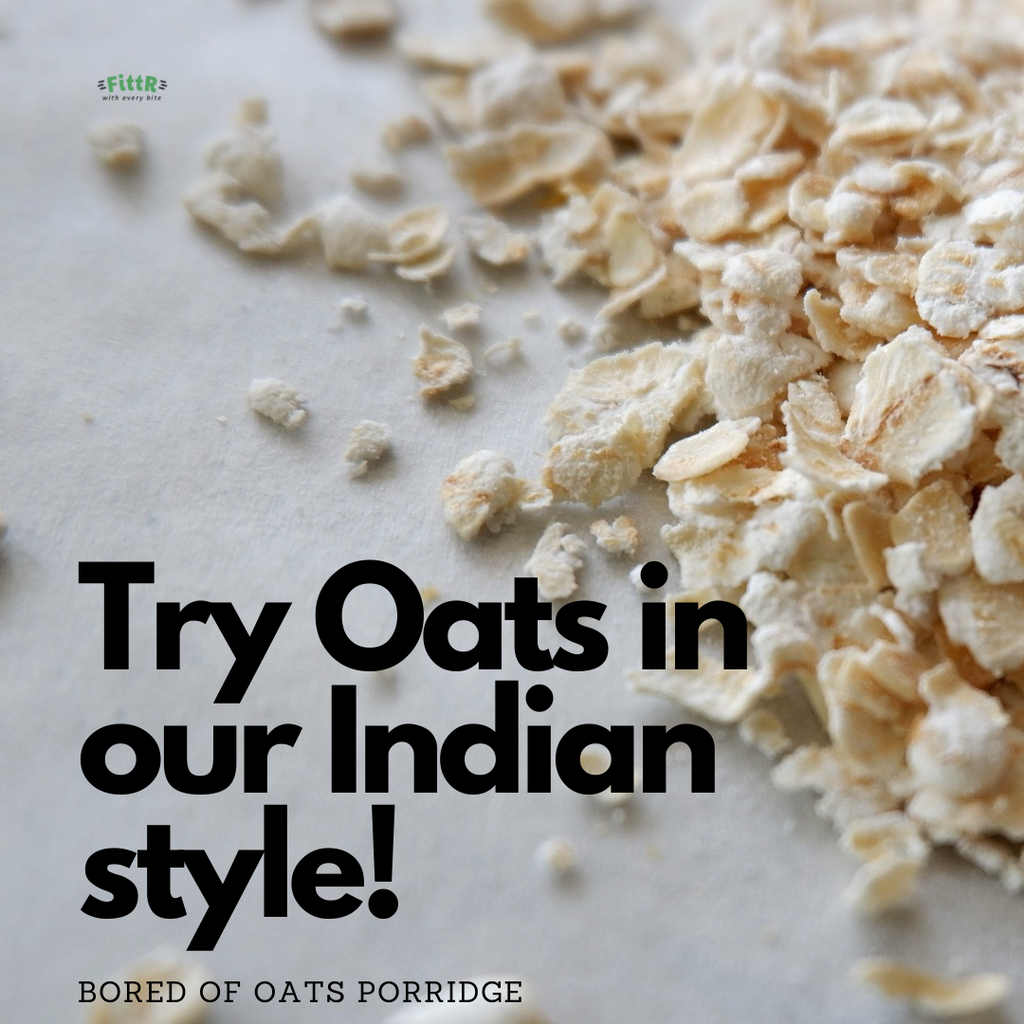 Oats are among the healthiest food grains. They are gluten-free and provides a surplus amount of nutrition. Oats are tasty as well as amazing appetite-fillers. There are various benefits of them like good metabolism, low cholesterol, low cardiovascular risks, etc. Due to their health benefits, many people are incorporating oats in their daily food practices.
Indians and Masale go hand in hand. We Indians love spices and chilies, so eating simple oats is not our style. Masala oats are quite famous in India but eating a single recipe can get boring after a while. Most of you would be trying to find different ways of making normal oats, tasty and spicy.  If your efforts have gone in vain till now then, worry not. Because now you are at the right place. Today, we will tell you super easy and fun recipes which will transform your normal oats into delicious spicy ones. Now no need to compromise on taste for eating healthy!
Oats with Indian Tadka!
Let's discuss some recipes that will make you drool over oats!
An easy-to-make and yummy to eat breakfast option.
Ingredients:
Oats: 1 cup
Oil: 3 tsp
Mustard seeds: 1tsp
Urad Dal: ½ tsp
Chana dal: 1 tsp
Cumin: ½ tsp
Curry leaves
Ginger paste: ½ tsp
Chilies as needed
Grated carrot- 1
Turmeric – ½ tsp
Semolina/Rava- 1/2 cup
Curd- ½ cup
Water: 1 cup
Baking soda: ½ tsp
Process:
Heat a pan and pour 3 tsp oil.
Splutter mustard, urad dal, chana dal, cumin seeds, and curry leaves in it.
Put the ginger paste for sauteing and chilies in the pan.
Then, add turmeric and carrots again cook for 2 minutes.
After that add Rava and roast it till you can smell the hot aroma.
Now add water to the Rava and mix it well to make a paste.
Now add coriander and salt into the paste and leave it for 20 minutes.
Moments before you start cooking, add the baking soda into the paste.
Pour the paste into the idli stand and steam it for 15 minutes and your delicious oat idlis are ready.
Instant oats Upma recipe to satisfy your hunger in a few minutes.
Ingredients:
Rolled oats: 1 cup
Oil: 1 tsp
Mustard seeds: 1 tsp
Urad dal: ½ tsp
Cumin: ½ tsp
Curry leaves
Ginger: 1 inch finely chopped
Chilli as needed
Salt as needed
Capsicum: ¼ chopped
Onion: ½ chopped
Carrot: ½ chopped
Turmeric: ½ tsp
Peas: 2 tbsp
Water: 1 cup
Coriander: 2 tbsp finely chopped
Coconut: 2 tbsp grated
Lemon juice: 1 tbsp
Process:
Take a large pan and heat the oil.
Now splutter urad dal, mustard seeds, jeera, and curry leaves in the pan.
Now put the finely chopped ginger and chilies as per your taste along with onion and saute them.
Then, put carrot, capsicum, peas, turmeric, and salt as per your taste.
Mix two tbsp of water in the pan and let it simmer for 5 to 6 minutes.
Put 1 cup of water and let it boil.
Now add oats to the boiling water and mix it well.
Now let this mixture simmer for about 5 minutes.
Add salt, coriander, lemon juice, and coconut into it.
And your tasty Oats Upma is ready to serve sizzling hot.
What makes Oats healthy?
A common question to ask! Scientifically oats are called Avena sativa. They are a species falling under the broad umbrella of cereal grains. They belong to the family of Poaceae. Oats are very healthy and nutritious because they contain a huge amount of protein, fiber, carbs, etc.
Per 100 gram oats contain 8% water, 8% riboflavin, 10.6 grams of fiber, 6.9 grams fat, 6% Vitamin B6, Folate 14%, iron 26%, zinc 12%, and magnesium 44% of the daily required value. They also contain antioxidant named avenanthramides which help in balancing blood pressure of the body and it is only present in oats.
Their rich nutritional score helps in combatting many health issues like:
Oats contain a rich amount of beta-glucan fiber which helps in reducing hazardous LDL cholesterol levels. It helps in reducing the potential risk of strokes and cardiovascular problems.
If you are someone with a weak digestive system then, try oats. Their high input of insoluble fiber improves digestive health.
It is good for the heart due to its high amount of copper and fibers along with antioxidants.
Beta-glucan contents of oats also help in regulating blood sugar levels and are found very useful for moderating insulin and glucose levels of type 2 diabetes patients.
If you find it difficult to lose weight along with taking care of your overall health then, oats are just the right option for you. They are good appetite fillers and make you feel full for a long time. And of course, all the nutrients make sure that you are not missing on your daily nutritional intake.
Oats in Indian Diet- Acceptable or Not?
Oats are healthy as well as tasty. They are beneficial in many health problems. But they lack the Indian flavor of chilies and spices. But this cannot put an obstacle in front of us to incorporate such a healthy food alternative in our diet. You can try above-mentioned recipes and integrate the healthy essence of oats with the Indian style of taste.
FittR with every bite offers Oats idli ready to cook pack as a healthy breakfast alternative suited for our Indian taste buds. Take a tour of our site to discover amazing options of healthy foods from oats idli to jowar cookies to immunity brew for strengthening your body.