Importance of Oats in Your Diet & Its Health Benefits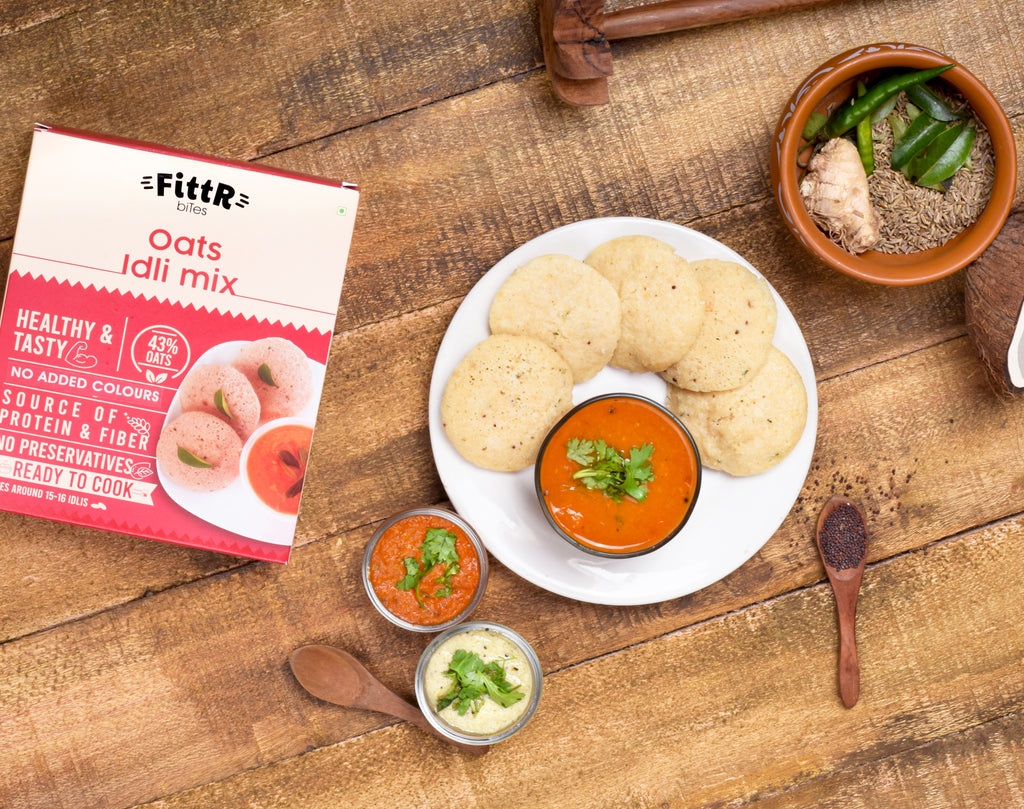 They say healthy eating supports healthy living. Some people, though they regularly have breakfast, lunch, and dinner; experience many health benefits due to their poor nutritional intake. It is important to choose foods that are high in iron, protein, fiber, etc. as they keep your energy levels high and give your body all the essential nutrients. Oats are one such healthiest grains that provide multiple health benefits as they are loaded with vitamins, fiber, minerals, and antioxidants. Furthermore, oats can turn out to be one of the best gluten-free breakfast ingredients and their inclusion in your diet can benefit you in the long run.
However, if you are looking for the best way to consume oats, then check out this oats idli mix from FittR biTes – the best online store. This special way of consuming idlis can help you incorporate oats into your diet and get all the nutritional benefits.
Health Benefits of Oats: 
Lowers Cholesterol Levels: 
Studies have proven that when you consume oats in your diet, it helps to lower LDL cholesterol levels due to the beta-glucan fiber found in oats. It reduces the circulating cholesterol levels in the blood and increases the excretion of cholesterol-rich bile. Adding to this, when the LDL (bad) cholesterol reacts with free radicals, it leads to oxidation which results in heart disease. So, most people suffer from damaged tissues, artery inflammation, increased risk of heart attacks, etc.
Therefore, the consumption of oats works great for people suffering from heart diseases as the antioxidants and vitamins present in oats prevent LDL oxidation.
Controls Blood Sugar Levels: 
A significant increase in blood sugar levels and a decrease in insulin sensitivity can lead to a disease called diabetes type 2. So, people who are suffering from type 2 diabetes should opt for foods that contain oats, or must and should include oats in their everyday or weekly diet. Especially, people who are overweight should prefer eating oats as part of their diet as it helps in lowering blood sugar levels, and also, helps with insulin sensitivity.
Keeps You Fuller for Longer: 
Oats idli mix – one of the delicious and healthy breakfasts that you can have every morning. This nutritious breakfast keeps you fuller all the time and thus, consuming such filling foods enables you to intake fewer calories and lose weight. Furthermore, the beta-glucan content present in oats idli mix takes a longer time to empty the food in your stomach and makes you feel full for a long time. Adding to this, it stimulates the release of a hormone called peptide YY (PYY) that is linked to low-calorie intake and thus, reduces the risk of obesity.
Maintains Good Digestive Health: 
If you have a constipation problem, then including oats in your diet can be a great choice. As oats are rich in fiber content, they promote bowel regularity making them easier to pass by increasing the weight and water content of stools. Furthermore, as fiber found in cereal oats are known to be highly effective than fiber found in vegetables and fruits, it is highly suggested to include oats in your diet. Therefore, buy oats idli mix from FittR biTes and consume oats in the form of idlis, and in turn, it will help you in lowering digestive issues like constipation, diarrhea, and irritable bowel syndrome.
Enhances Immune Response: 
Most of the researches have proven that the nutritional content present in oats help in boosting the immune system's response to any infections or diseases. Furthermore, the beta-glucan found in oats and rich fiber content helps neutrophils to travel faster towards the infection area and thus, eliminate the bacteria that is found there.
FittR biTes – one of the best online stores of nutritional food mixes provides oats idli mix that is free from artificial preservatives, added colors, and flavors. So, this 100% natural oats idli mix enables you to prepare idlis in minutes and enjoy a nutritional as well as delicious breakfast.
Also Read:
Healthy Snacking Options – Cookies & Chikki Bars