Breakfast - The Most Important Meal of the Day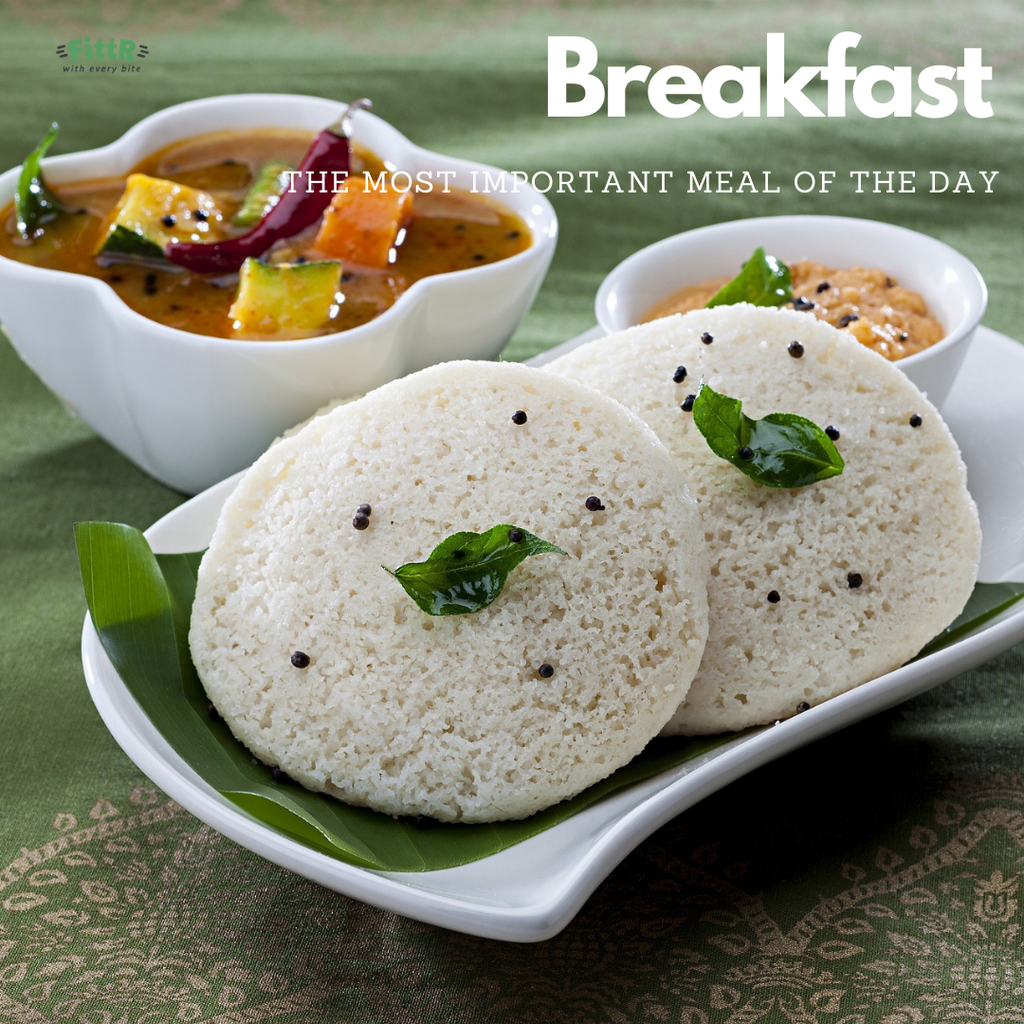 Breakfast is the most essential meal of the day and with a solid reason behind it. Breakfast, as the term suggests, breaks the fasting that has been carried out since the previous night.
Though in recent times there is a debate around that whether breakfast is the most important meal of the day or not, we at FittR with every bite support the debate in favour of it and why not!!! The fact is that 99% of us don't stick to a controlled diet and follow what our stomach says – so, if you don't have a proper breakfast every morning, you'll just load your stomach with extra food at mid-day as you haven't eaten anything since the last night. While working until lunch, one might also eat a brunch of carbs and soft beverages. This knocks off your body's rhythm.
A healthy breakfast gives you a lot of greater vitality to begin your day. It also allows you to keep active throughout the day and get things done faster. Many studies have also shown that eating breakfast improves memory and concentration and aids manage blood sugar levels.
Breakfast should include carbs for immediate energy, protein for your physique, and fibre to keep your belly full. However, you should be aware of the fact that one little chunk of bread-omelette or bread with jam isn't going to let you get all the necessary nutrients required for your body. You should include variety and do not overlook the nutrition packed breakfast items that we in India have been eating traditionally – Upma, Poha, Idli, Dosa, Chilla and the list goes on. They are a powerhouse of nutrition.
In today's hectic world, many are skipping breakfast or opting for packaged western or western influenced products. We don't imply that all packaged food is unhealthy for you, but you need to carefully read the label before you pick one as most of them are heavy in carbohydrates, sugar, salt, and additives. Products with synthetic colours, additives, preservatives, added sugar and salt should be avoided, atleast in the morning. Avoid eating packed potato chips, cakes, pastries, cookies, and soft drinks as these not only have fewer minerals and proteins, but they also induce you to consume more and more of them while still feeling empty.
You should include variety in your breakfast to get all round nutrition. Some examples of healthy Indian breakfasts that make your tummy easily full are:
Idlis: They are are light and easy on the stomach. Traditionally, idli is prepared with a combination of rice and urad dal. The dough is fermented, which breaks down the proteins and minerals making them soluble and easy to digest. Carbohydrates in rice and protein in urad dal makes it a balanced nutritious breakfast.
Dosa with tomato chutney: Tomato chutney is a good source of vitamins and is also known as a rich antioxidant. It goes hand in hand with many Indian recipes. It also goes well with a small spoon of ghee melting over a hot bowl of rice.
Chillas: If you are among those who are trying to lose weight, Besan Chilla is known to be a good option for healthy morning food or a light dinner. With this being said, Oats Chilla is also the best alternative to be included in your weight-loss regime as it is rich in fibre.
Dhokla: Dhokla is made from besan, which is high in protein. Protein needs more energy to digest than refined carbohydrates, and also gives your body a feeling of satiety with less quantity. You are less inclined to binge on fatty meals if you are satisfied. Because dhokla is steamed rather than fried, it is popular among dieters.
Upma: Upma is a popular morning recipe in India. It originated from South India and has plenty of advantages. Rava, the main ingredient in up, is full of protein and iron. Adding vegetables to the upma not only helps it taste better, but that also makes it nutritious. Suji, which is abundant in nutrients, is strongly recommended for individuals attempting to reduce weight.
Parathas & Chapatis: Parathas are staple in north Indian homes and are a staple breakfast. Surprised that Parathas can also be healthy. Yes, but only if accompanied by correct amounts of ghee and oil. The best part of parathas is that you can stuff them with different veggies, paneer and meats to bring variety and to vary the nutrition intake in your diet. For a change, you can even make stuffed or plain chapatis and have them with a curry for breakfast.
If you are some of those who are craving Indian breakfasts but have time crunched mornings or are cooking challenged or just happens to be feeling lazy on somedays, you should have a look at our ready to cook breakfast section at www.fittrbites.com. All are recipes are home curated using natural, healthy and traditional ingredients. All the ingredients are declared on the label with nothing to hide. Products are minimally processed (just like made at home) and are made in small batches to offer freshness, best of taste and consistency.
FittR with every bite provides some great ready-to-cook, home recipes based Indian breakfast alternatives which can be served easily. They are renovating it and introducing new things. The current product range in ready to cook breakfast includes -
Millets Masala Khichdi Mix

Oats Idli Mix

Millets Dosa mix

Jowar Upma mix