Different Ways to Consume Millets in Your Diet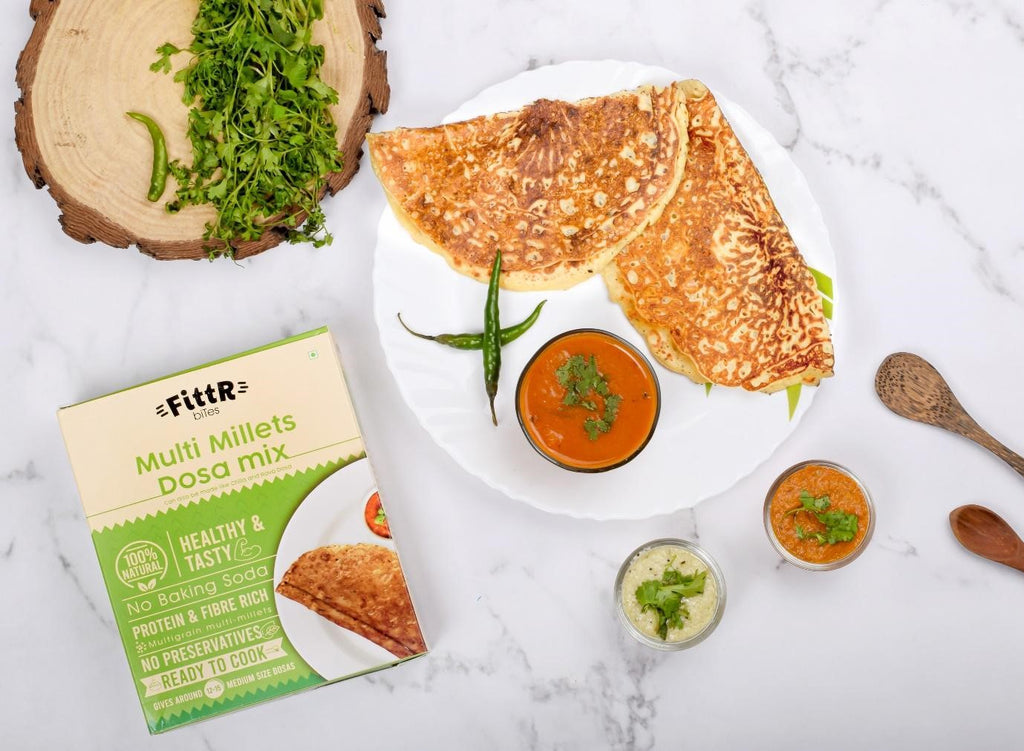 Do you have your breakfast every day? What do you generally prefer to have for your breakfast? Are you a health-conscious individual or simply eat some tasty foods even if they are low in nutrition content? Well, these questions whenever crop up in you mind, they make you think about your eating habits. 
People, nowadays, due to their hectic work schedule and corporate lifestyle, are opting for unhealthy eating habits. Furthermore, people are getting obese due to fast foods, less physical movement (sitting for long hours in front of their desktops or laptops), and stress. Adding to such a scenario, most of them are heading to their offices having no breakfasts due to no or less time. So, FittR biTes is here with the instant healthy Food mixes online which you can make in minutes. Therefore, no more skipping breakfasts, instead you will be feeding your tummy with some healthy nutrients. 
Adding to this, millets have been renowned as a great food ingredient due to their tremendous nutritional value and health benefits. So, FittR biTes have found some best ways to include millets in your breakfast diet. Let's get into detail about them. 
Millets Masala Khichdi Mix: 
Khichdi is known to be a special dish in multiple cities and a favourite for many. However, it is made with different ingredients and in different ways. FittR biTes Millets Masala Khichdi Mix has different types of millets and dals as the key ingredients, which have multiple health benefits. This multigrain multi-millets khichdi is rich in protein content and contains many vital nutrients. It is one of the best breakfast options for diabetic patients as it is gluten-free and 100% natural with no preservatives. 
You can make this millets masala khichdi mix in the following way: -
Open the pack and mix the grains with water.

Take a pressure cooker, heat, and add 1tsp ghee.

Put washed grains and spice mix into the cooker and pour 650 ml of water.

Wait for 6 whistles and switch off the gas.
Your healthy and tasty breakfast millets masala khichdi will be ready to eat.
Multi-Millets Dosa Mix:
Dosa is the most famous and favorite-for-many in tiffin in South India and some northern states of India. As dosa batter making is a lengthy and hectic process that consumes more than 12 hours, FittR biTes brings you a multi-millets dosa mix through which you can prepare dosas in minutes. Furthermore, if you are searching for some healthy and tasty ways to include millets in your diet, then these multi-millets dosas can be a great way. It is an amazing source of fiber and protein, and its nutritional value helps you to experience huge health benefits. It does not contain any added preservatives, sugar, and baking soda. Thus, 100% natural and healthy Indian breakfast. 
Multi-millets dosa instant mix – get to know the preparation procedure: 
Take 1 cup of dosa mix and add 1 cup of water, and ½ cup of curd. 

Mix the items and make sure it is formed a batter type of consistency (add water if needed).

Heat the non-stick pan on the stove, apply 1 tsp oil, and spread 1 ladle of batter in a round circular motion. 

Add a few drops of oil and cook on high flame and later, you can flip the dosa and cook the other side. 

Your yummy delicious multi-millet dosa is ready to serve. 
Millets Spinach Dosa Mix: 
Spinach is rich in iron and millets are a great source of protein. The combination of these two will really make a healthy meal. Do you ever felt to eat dosa all of a sudden in the morning for breakfast? But couldn't have it as you didn't plan and prepared the batter? Such situations might happen most of the time. So, here is FittR biTes Millets Spinach Dosa Mix which can be delicious in taste and nutritious for health. If you want to have a gluten-free breakfast, then order Millets Spinach Dosa Mix now. 
Here's the procedure to make healthy dosas in minutes:
Mix 1 cup of dosa mix in 1 cup of water and add ½ cup of curd in it. 

Mix the batter (add water if needed) and make dosa consistency. 

Place the pan and make dosa as usual. Your millets spinach dosa mix will be ready to eat. 
Also Read:Calorie counting and weight loss