The rise of Traditional snacking with Chikki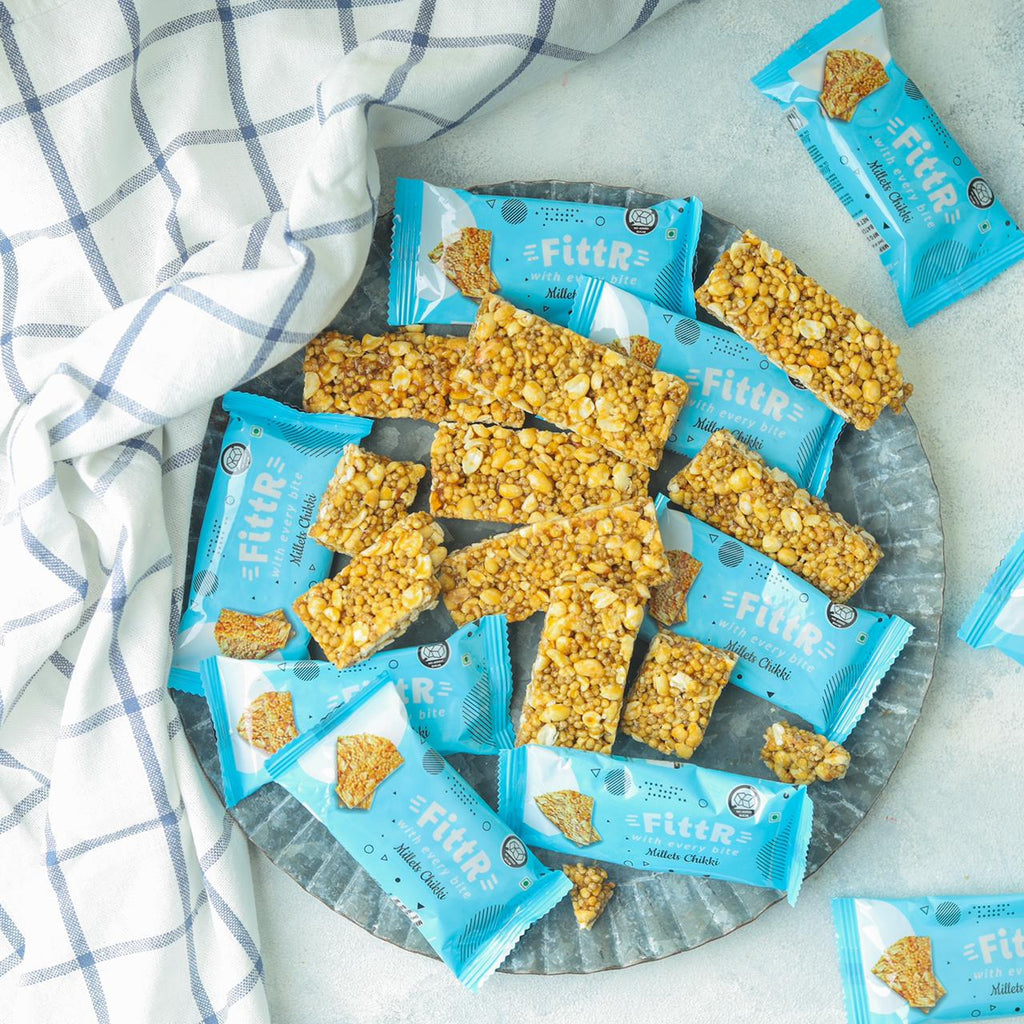 Snacking is a popular term these days. Snacks have found their way in almost all occasions, whether it is at a house party or an indigo flight or even a kitty party. But what comprises a snack exactly? A snack generally refers to any food eaten between main meals, is not very filling and includes food like chips, peanuts, popcorn etc. Snacks have become a part of our day.
There are many reasons to explain why people love snacking, but among all, two main reasons are - to satisfy hunger between the three meals and to satisfy their taste buds.
Everyone loves snacking, but in the recent times due to the rise in health issues and growth of awareness about healthy lifestyle, many people restrict eating snacks. But snacking cannot be completely shut right? Hence, the demand for nutritious snacks observed an uptick and we saw the return of many traditional snacks like makhana and chikkis.
In this article, we bring you insights on the benefits of chikki!
Snack time? Chikki time.
It is a well-known fact that we all love ethnic food and are savored by the people around the world. In India, we have numerous varieties of foods, sweets, and snack items, which are healthy and tasty. One such item is chikki, one of the most loved Indian healthy & tasty snack bars.
Chikkis are prepared using locally available, healthy ingredients like peanuts, jaggery, and other natural ingredients. Chikkis are traditional Indian delicious snacks, and it is a combination of vital nutrients like proteins, iron, vitamins, etc., which provides immense nutritional benefits. 
Groundnut chikkis can lower the chances of strokes and coronary artery diseases by lowering bad cholesterol.

Peanuts contain vitamin E, zinc, and magnesium, which can improve the glow of your skin and also fights against acne causing bacteria.

Chikkis can boost collagen synthesis and that helps in cell regeneration.

Chikkis are a rich source of iron, and it can help to make the bones strong and healthy.
So, if you love to eat snacks but are restricted as most snacks are junk, then Chikki is your go to option. Now, the next question that arises is, where to buy healthy chikki? We got you covered!
FittR Bites offers the best chikkis online, which are prepared using only the highest quality natural ingredients like millets, peanuts and jaggery without any kind of adulteration. You can carry these chikki bars anywhere, they are so handy. It can fulfill your hunger and sweet cravings along with providing a lot of health benefits. That's hitting two targets with the same arrow!
 Why FittR Bites?
FittR Bites is one of the popular instant health mix, ready to cook food products and snacks suppliers, and we offer a wide range of healthy instant mix products and beverages online. We use natural ingredients and follow traditional Indian recipes while preparing the food products.
We have kept the quality bar at high and we take precise care to provide high quality products. The products which we provide are categorized into instant mix products, ready to eat food products, snacks and beverages.
Explore FittR Bites range of 5 star foods. Meet quality, affordability and convenience, all in FittR biTes products.