Millets in Your Diet – Benefits You Should Know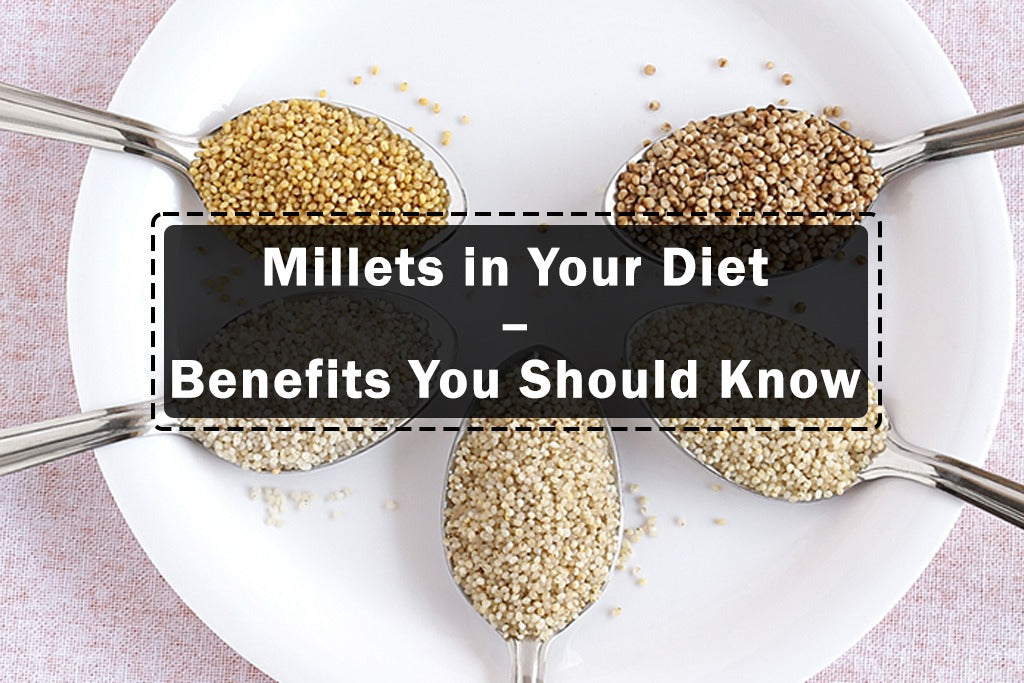 Millets in Your Diet – Benefits You Should Know
Planning to take highly nutritious and healthy foods in your diet? Then, you definitely need to welcome some traditional foods and recipes – yes, foods made with millets. Millets that come under the ancient grain category are the foods that our ancestors used to consume in the olden days. These ancient traditional millets have found their place back on the kitchen shelves because of their high nutritional value. 
There are different types of millets such as foxtail millet, ragi, pearl millet, proso millets, finger millets, kodo millets, little millets, and barnyard millets. All these gluten-free millets have ample amounts of nutrition containing high protein, fiber, calcium, and antioxidants. 
Furthermore, with FittR biTes, you can include millets in your diet with some great recipes such as multi-millets dosa mix, instant millets masala khichdi mix, millet cookies, and millets chikki. Thus, this will be a great way to include millets in your diet. If you are in quest for instant healthy food mixes online, then visit the official website of Fittrbites now!
Benefits of Millets: 
Multi-millets have a wide range of health benefits when included in your daily diet. Some of the health benefits that you should be aware of are: 
Regulates Blood Glucose Levels: 
Millets are considered to be highly nutritious foods when compared to wheat and maize. These gluten-free millets are known to be high in complex carbohydrates and low in simple carbohydrates, thus, making them have a low glycemic index (GI) approx. 54-68. Therefore, millets take a longer time to digest and prevent a spike in your blood sugar after eating. Furthermore, millets contain a high amount of dietary fiber, all essential amino acids, proteins, minerals, and vitamins. So, millet is renowned to be an ideal food for diabetic people as it helps to manage their blood sugar levels easily. 
Aids Weight Loss: 
Today's modern lifestyles and fast food habits have been making people gain weight but not weight. When you are shifting to a healthy and nutritious diet, then millets can be great food as it helps to lose weight and gain health. If you are the one in many worried about your obesity, then consume millets in your breakfast and snacks by making an order of instant millets masala khichdi mix, multi-millets dosa mix, and millet cookies. Swap your regular food items with these millets, and it will help you in lowering your BMI. Therefore, you can achieve sustained weight loss with lower fat accumulation and improved gut health. 
Good for Heart Health: 
Millets are loaded with rich antioxidants that contain flavonoids, tannins, policosanols, beta-glucans, anthocyanidins, and lignans. The inclusion of such an impressive profile of antioxidants helps in reducing the amount of bad cholesterol and increasing the number of good cholesterol levels. Adding to this, it helps in maintaining the blood vessels healthy and thus, lowers the risk of heart disease and stroke by clearing off the clots. Therefore, consuming millets as part of your daily diet helps in keeping your heart healthier. 
Promotes Digestion: 
Dietary fibre rich foods are known to improve the function of your digestive system. Furthermore, millet – being rich in soluble as well as insoluble dietary fibre, is known to promote digestion in your body. Adding to this, it combats bloating, constipation, cramping, regularizes bowel function, flatulence, boosts the immune system, and also, improves the health of other important organs such as kidneys, liver, etc.
Rich in antioxidants: 
Ferulic acid and catechins that come under phenolic compounds are found impressively high in millets. They act as antioxidants and when you consume millets in your daily diet, then it helps in protecting your body from harmful oxidative stress. Adding to this, its anti-inflammatory properties allow skin protection and rapid wound healing. Furthermore, curcumin, ellagic acid, quercetin, and other catechins help in flushing out toxins from your body.