Khichdi---Why It is Touted as A Holistic Superfood & Significance of this Wholesome Meal!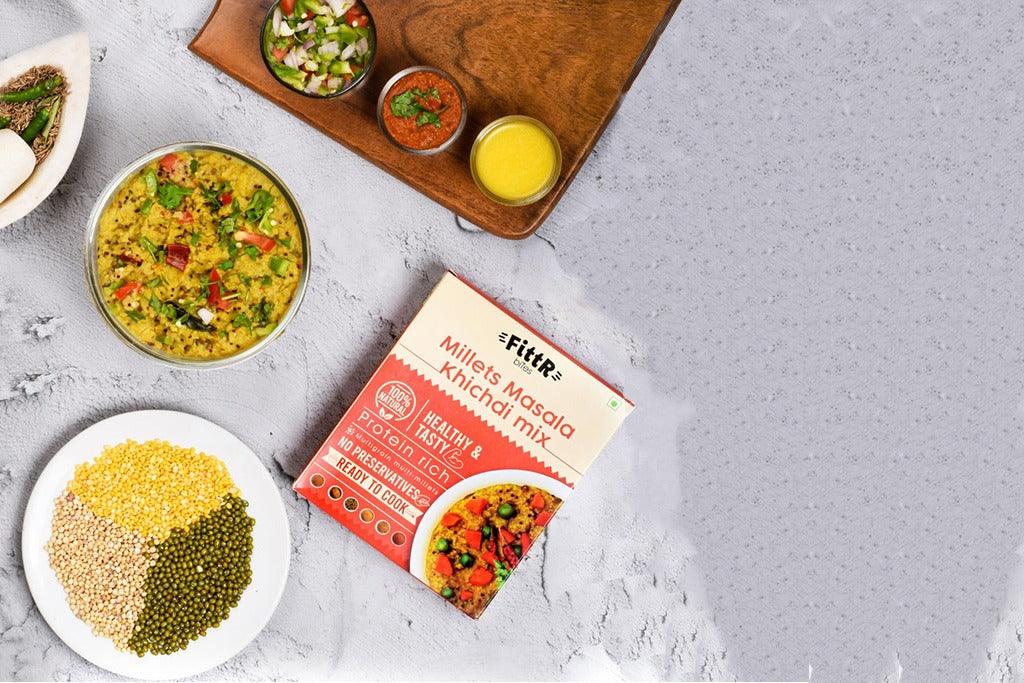 Khichdi is an ideal food for everyone and even for infants & babies above 6 months.
Khichdi is very light and easy on the gut & digestive system.
Khichdi has been the wonder staple food for Indians for many years now.
Simple, scrumptious and satisfying, a hearty bowl of khichdi speaks about both health & taste.
If anything deserves to be called a national dish, it is our old-classic khichdi. The connection of the dish with people is so strong that we often overlook that behind its modest taste lies numerous health advantages. It is one of the wholesome meals and comfort food that has been enjoyed across varied parts of the country irrespective of the religion and region.
Mothers prefer to feed their baby kichdi (no spices) as it is the easiest and most balanced food to digest. Khichdi is a mixture of carbohydrates, proteins, fiber and calcium.
In Ayurveda, Khichdi is recommended as the best light diet for all the tri-doshas, Vata, & Kapha. Read on this article on significance of humble dish Khichdi and why you should incorporate this delicacy into your diet.
History of Khichdi
To immerse you in the history of Khichdi a little, this wonderful dish dates back to the Indian subcontinent as far back as 1350.
"Khichdi" was recently declared by the government around the world as "India's superfood" and the queen of all food. " The government also plans to promote kichdi around the world as a healthy, delicious and easy Indian superfood. India Gate Lawns, New Delhi, has set the Guinness World Record for the largest batch of kichdi at 918 kg. Eminent personalities were involved in the preparation of KHICHDI. The humble Khichdi traveled across borders, from Egypt to Great Britain.
Delicious, Hearty, & Retains Nutrients when cooked in Earthen Pot!
Khichdi tastes best when cooked in a clay pot. The porous nature of the clay pot allows the mixture and heat to circulate through the food. The result is flavorful food that is usually lost in other types of cookware. Clay is alkaline in nature and interacts with the acidity of food to neutralize the pH balance and make it healthy.   
It is believed to contain essential minerals for health, including calcium, magnesium, iron, phosphorus, and sulfur. Thanks to the heat resistance and slow cooking, food retains all its nutrients and moisture, so you don't need extra oil or fat to moisturize the food.
In addition to calming the body and detoxifying the body, kichdi ingredients also have the perfect balance of building blocks needed to boost energy, immunity, and digestion. Khichdi is the favorite food of Panchakarma, a form of Ayurvedic healing that promotes healing of the mind, body and detoxification.
FittR Bites offers a delectable instant health mix of Millets Khichdi where you can relish the goodness of varied millets along with the delectable taste. You can also try yummy millet snacks
Nutritional Benefits
Nutritionally, kichdi and vegetables provide a balanced diet that restarts the digestive system after eating packaged and restaurant foods. And if you want to add color to your khichdi, try the palak kichdi. This is one of the healthiest meals you can eat.
For most, khichdi is the kind of comforting food that you eat when you feel unwell, as it is considered a tasteless dish. Although yes, mung kichdi is easy to digest when you have an upset stomach or a fever, hey, that is not khichdi is all about. Each region of India has a unique variation on this dish. Khichdi is a healthy traditional Indian dish enjoyed throughout the country, regardless of the region.
Varieties of Khichdi
Khichdi is one of the ultimate comfort foods however humble it might be. An there are many varities that you can try which include,
Daal Khichdi
Moong dal Khichdi
Pongal
Barley Khichdi
Khato
Bajra ki Khichdi, etc.
And if you would like to have some more nutritious and hearty khichdi you can whip up FittR Bites lip-smacking millet Khichdi
Millets Khichdi    
Millet khichdi is an uber-nutritious version of classic one which is mainly made from whole grain millets, dal, leafy greens and greens. The North Indian version of kichdi is made from rice and legumes, although millet khichdi has been steadily gaining popularity lately for its myriad health benefits.