Healthy Snacking Options – Cookies & Chikki Bars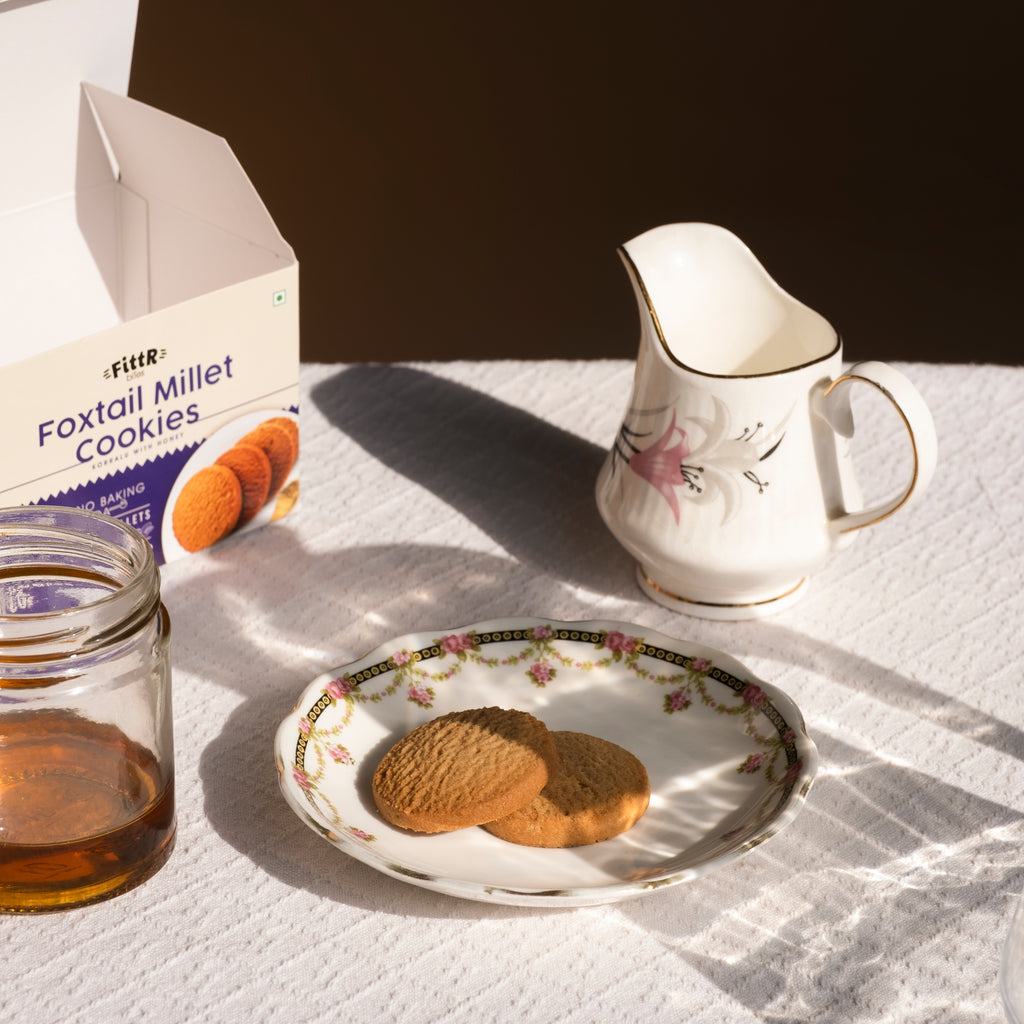 If you are a working professional or a mother of a kid who is going to school, then you may be knowing the importance of healthy snacks. Though you have healthy meals for breakfast, lunch, and dinner, eating between meals plays a crucial role. They are also a part of a healthy eating pattern and satiate your hunger between meals. So enjoy some crunches with healthy ingredients and complete your nutrient intake.
If you are looking for some healthy snacking options to have them between your 9 to 5 working hours, or to fill your kids' bags, then check out FittR biTes – one of the best online stores that provide healthy snacking options. Some of the healthy snacks that you can have are as follows:
Foxtail Millet Cookies: 
Foxtail millets that contain vitamins and nutrients, act as a great ingredient in your snacking cookies. A blend of multiple ingredients such as foxtail millet flour, unrefined cane sugar, whole wheat flour, honey, cardamom and salt, these foxtail millet cookies give you multiple health benefits. Its fiber-rich content and micronutrients improve your bone and muscle health, functioning of the nervous system, cardiac health, digestion, lowers blood cholesterol, regulates blood sugar levels, and helps in weight loss.
So, people who are limiting their food intake to reduce weight can deliberately consume foxtail millet cookies. As it does not contain any preservatives, artificial flavors, baking soda, or maida, it turns out to be a healthy snacking item for kids as well as adults.
 Multi-Millet Cookies: 
Not only the meals you eat but also the snacks you take should contain a good amount of nutrients. Multi-millets – a mixture of pearl, finger, kodo, sorghum, foxtail make these cookies, a rich source of iron, vitamins, minerals, and micronutrients. These great-tasting crunchy cookies do not contain any artificial colors, additives, maida, and preservatives, thus, making them 100% healthy snacking items.
Furthermore, if you want to experience the magic of goodness in between your meals, then get these multi-millets cookies from FittR biTes – one of the best online stores in India that provides healthy foods mixes and nutritional snacks. Adding to this, multi-millet cookies provide multiple health benefits that include reduction in blood sugar levels, celiac disease, thyroid, blood pressure regulation, and cardiovascular.
 Millets Chikkis: 
Chikkis – a great snacking item that satiates your hunger. Let's enjoy this small nutritious bar with some extra crunchiness and deliciousness with millets. Get these millets chikkis from FittR biTes and enjoy its crunchy taste between your meals and during your working hours. Furthermore, this healthy snacking bar contains millets, peanuts, and jaggery, and thus, keeps you fuller for a long time. It helps you to increase your energy levels whenever you feel low and allows you to concentrate on your work. With no addition of colors, preservatives, and white sugar, this millet chikki is 100% vegetarian.
Also, its rich antioxidant levels and iron content keep you nourished all day, boost energy levels, and improve your health.
 Ragi Cookies: 
Ragi, also known as finger millet has numerous health benefits and the inclusion of this ingredient makes ragi cookies, a nutritional snacking item. This energy-filled healthy snack item is made with natural ingredients such as ragi (finger millet) flour, unrefined cane sugar, salt and whole wheat flour. With no inclusion of artificial preservatives, additives, colors, these ragi cookies are suitable for all age groups and help you to improve bone health, treat anemia, keep blood sugar levels in check, improve heart health, etc.
 Jowar Cookies: 
Jowar is the most popular cereal crop that is loaded with excellent nutritional properties. Furthermore, Jowar millet cookies are made with the perfect blend of jowar millet flour, unrefined cane sugar, vegetable oil, whole wheat flour, and salt. So, switch to this healthier version of snacks that provides you with multiple health benefits.
Jowar is rich in fiber, protein, magnesium, iron, folic acid, and help you to reduce body inflammation, lower cancer risk, blood pressure, cholesterol, prevent anemia, and are good for bones and endurance. So, if you are looking for healthy snacks for your family and if they don't like jowar rotis, then jowar millet cookies can be the best way to consume with taste and health benefits.
Also Read: Why prefer ready-to-cook mixes over every day eating out or ordering in?