5 Best Herbal Teas to Boost your Immunity, Brain Health, & for Stress Relief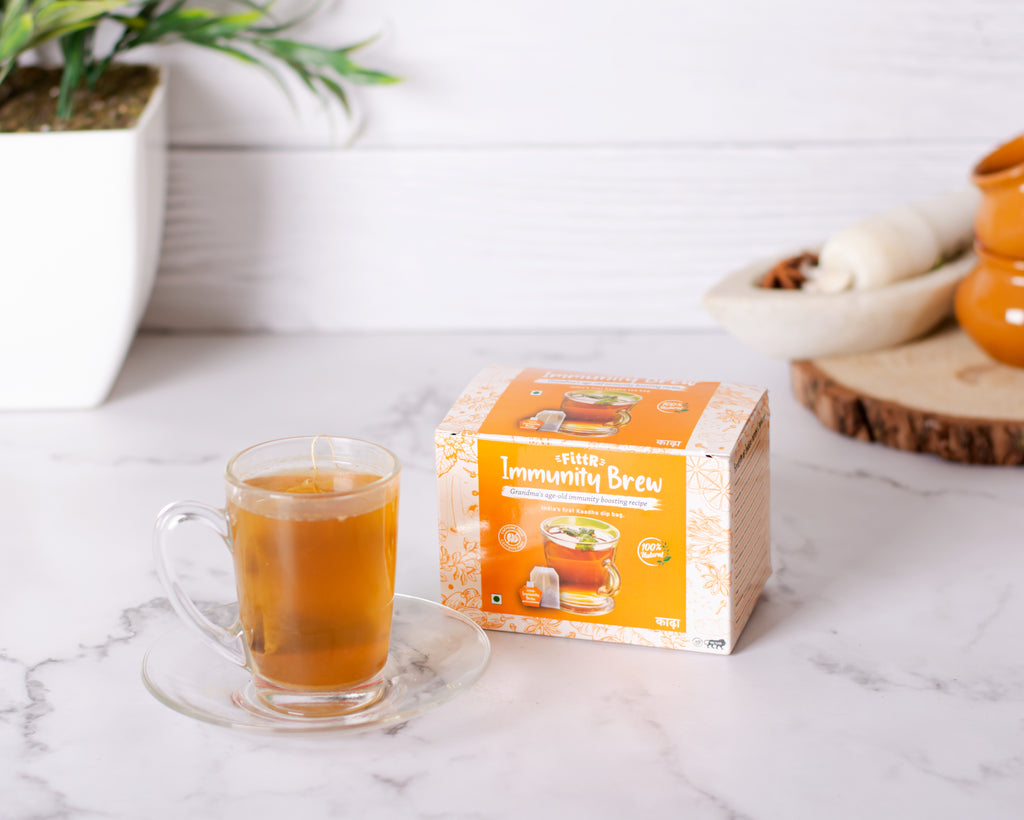 Tea/Coffee
If you prefer tea over coffee, then this article is for you!
Here are the 5 best herbal teas to drink that help boost your immunity & for a healthier body & mind.
Having a warm cup of tea could be one of life's most simple yet soothing pleasures.
Gone are those days of depending on medicines to keep you fine. Now, you can just add a cup of herbal wellness teas to your diet, exercise regime, and get fit like never before. Why? What is so special about herbal teas? And where you can find these magnificent herbal ones?
Herbal wellness tea is a decoction of various herbs and spices, where they may or may not get infused with minimally organized green tea for better aroma, flavor, and health benefits.
We are bringing you the list of top 5 best healthy and tasty wellness herbal teas that you don't want to miss. All these concoctions consisting of various herbs & spices makes them capable of preventing several illnesses for you while facilitating you a flavorful & aromatic cup to cherish. Have a look.
There is something relaxing about a hot cup of tea. Drinking tea calms your nerves & provides comfort. Beyond its soothing flavor, tea hosts numerous health benefits, including supporting the immune system.
Link between the Tea & Immune System
Tea holds a special place in most of our lifestyles and one of the oldest beverages which has been consuming over centuries.
Our bodies are constantly battling free radicals, which are by products of metabolism & exercise. Under normal circumstances, our bodies can handle these free radicals, aging, eating habits, smoking, and specific environmental factors may also take a toll on your immune system.
Eventually, over time, these free radicals could cause oxidative stress that damages the cells, making their functionality less efficient, thereby increasing the risk of illnesses, chronic diseases and premature aging.
Fortunately, antioxidants present in tea, specifically polyphenols, are two potent plant compounds that can aid in preventing or delaying the oxidative damage caused by free radicals. Having plenty of antioxidants could help support a healthy immune system as well.
However, the concentrations and types of antioxidants present in tea vary based on the tea variety & how the tea is cultivated & processed.
5 Best Herbal Teas to support your Immune System
 1. Turmeric Tea
Turmeric is the most used spice in Indian cuisine, where its powder can also be consumed as tea when added to water. It is well-known for antiviral and antimicrobial properties and it is traditionally used in different cultures for relieving cold & flu symptoms.
Curcumin is the active ingredient that gives it its signature orange and yellow colour. Curcumin supports your immune system by regulating the growth of immune system and reducing inflammation in the body, this can be beneficial to people who are suffering from arthritis and other inflammatory diseases.
 2. Ginger Tea
Ginger tea is a flavorful and spicy drink that packs a punch of healthy and disease-fighting antioxidants. Ginger tea also aids fight inflammation and stimulates the immune system, but it is the most renowned for being an effective remedy for nausea.
It also helps prevent stomach ulcers and relieve indigestion and also useful in therapies that aid in protecting against diseases such as diabetes and cancer.
 3. Immunity Boosting Brews

If you are looking for the perfect cup of immunity boosting herbal tea to wind down with after a long day. FittR Bites' Immunity boosting brew is our best overall pick for immune-boosting teas. This immunity brew is an organic concoction of soothing ingredients including herbs & spices, ashwagandha, licorice (mulethi), star anise, cardamom, cloves, fennel, cinnamon, cumin, black pepper, ginger, mint leaves, turmeric, tulasi leaves, and mango powder.
 4. Chamomile Tea
Chamomile tea is a great natural remedy for insomnia and supports immunity. One cup of chamomile tea is an excellent concoction to have a soothing effect on the mind and body & also lulls you to sleep.
As chamomile is 100 % caffeine-free and it is perfect for sipping anytime of the day. Chamomile herbal tea is excellent to soothe mind & release chemicals in the brain that fights stress as well as depression.
 5. Black Tea
Black tea is appears to offer several health benefits including preventing cognitive decline, heart disease, inflammation, diabetes, and potentially cancer. Black tea also consists of flavonoids, that may help in lowering the cancer risk. Flavonoid rich diet may also help in protecting against cancer and heart disease.
Health Benefits
Tea is great for immune system, high in antioxidants and a great source of hydration.
Boosts immune system
Anti-ageing
Anti-nausea
Relieves stress
Detoxification
Aids in Digestion
Promotes weight loss
Reduce inflammation
Using herbal teas to boost your immune system
A cup of hot tea can be a great way to boost your body's defenses in order to keep you from getting sick. Most teas have antimicrobial, antiviral, and immune-boosting properties that could help you keep healthy. Tea has been used as a key component in herbal medicine for centuries in order to ward off illness & soothe the symptoms of colds & sore throats.
We all love authentic masala tea and no doubt it could be a great mood lifter! But there is more on offer in the world of teas and you can try aforementioned herbal teas or you can make them as a part of your routine. This way, you can ensure to have a dose of happiness and health every day.
Most of us don't want to miss our beloved cup of tea and let's take advantage of this habit to boost our health.
 We hope you'll try a few of the ones listed here. Happy sipping!
You can try instant immunity boosting tea and wholesome meals at FittR Bites!